🚀 You're Invited: RSVP for LOI's 3rd Demo Day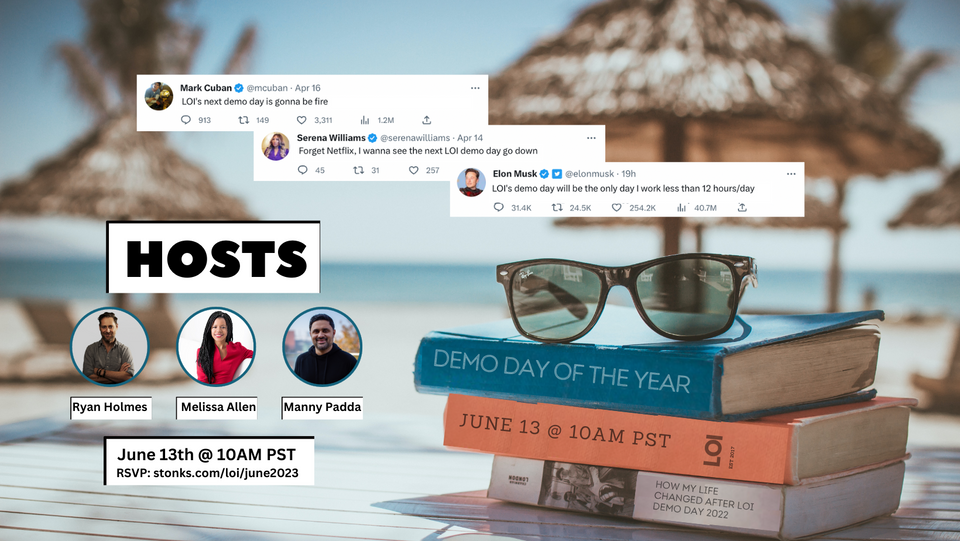 Investors, Partners, Founders and Friends,
We are beyond abso-flipping-lutely excited to extend you an invite to join us on June 13 to listen to the final 5 pitches of our most promising youth startups out of the LOI Startup Accelerator.
We'll hear how these young entrepreneurs are leveraging technology to solve the world's biggest challenges, from helping small to medium-sized businesses creatively apply AI to their business or developing SaaS solutions to advance greater privacy protection in the world of big tech.
We can't wait to hear what you think of them.
Our speaker list is still being finalized for the day but we're excited to share three individuals that will be returning:
Ryan Holmes: Hootsuite Founder, LOI Venture GP, 100+ angel investments
Melissa Allen: LOI Accelerator, Angel Investor, ex-Google
Manny Padda: LOI Venture GP, 100+ angel investments, Largest dental roll-up in Canada
As the final 5 startups are still being selected by our judges, you can still save your seat before your calendar fills up. Simply hit the button below and you'll be taken to an RSVP page.