🍷 Wanna Win a Michelin Star Dinner?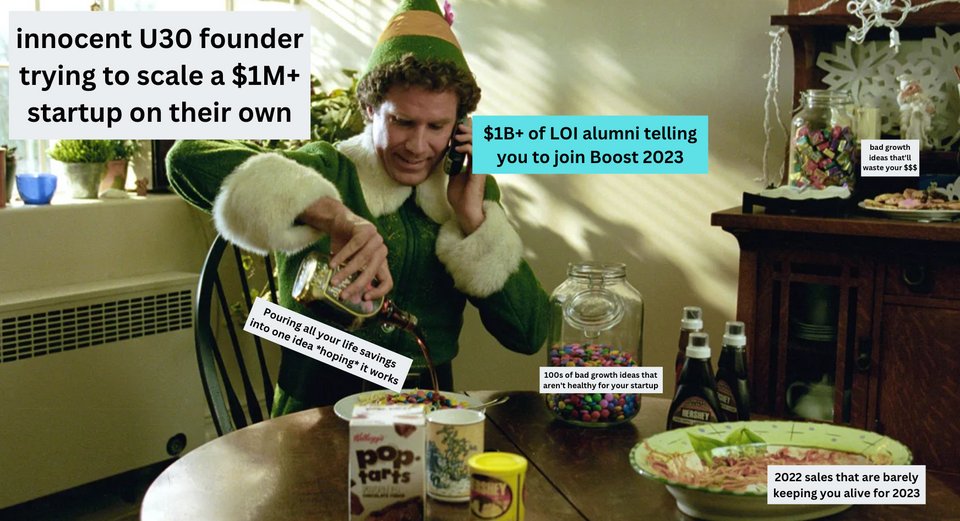 Hey LOI Fam,
Emails are slowing, snowflakes are falling and the Elf memes are growing; which can only mean one thing: THE HOLIDAYS are here.
And in email world, that means "prove you're worth reading". So companies will try to:
offer you a 40% off promo code  💸
suggest legendary Secret Santa gifts 🎁
orrrr delight you with memes to make me laugh 😏
Well to ensure you keep scrolling, we're gonna top them all and add one of each in today's update to keep you humpty dumpty happy. We invested some serious hours spinning up memes that'll make you smile, so plz let us know which one you dig the most at the end. Deal? 🤝
Today's Michelin-Star Menu:
🎉 LOI's year for the history books
🚨 24 hours until Boost 2023 applications close
🍷 Deets on how to win a Michelin star dinner next spring (hint: it's got something to do with hitting that green button below)
Today's deep dive is gonna be white lotus wild, so hold onto your AirPods b/c this startup sleigh's taking off.
Apply to LOI's Spring 2023 Boost Founder Cohort

🎉 LOI's Year for the History Books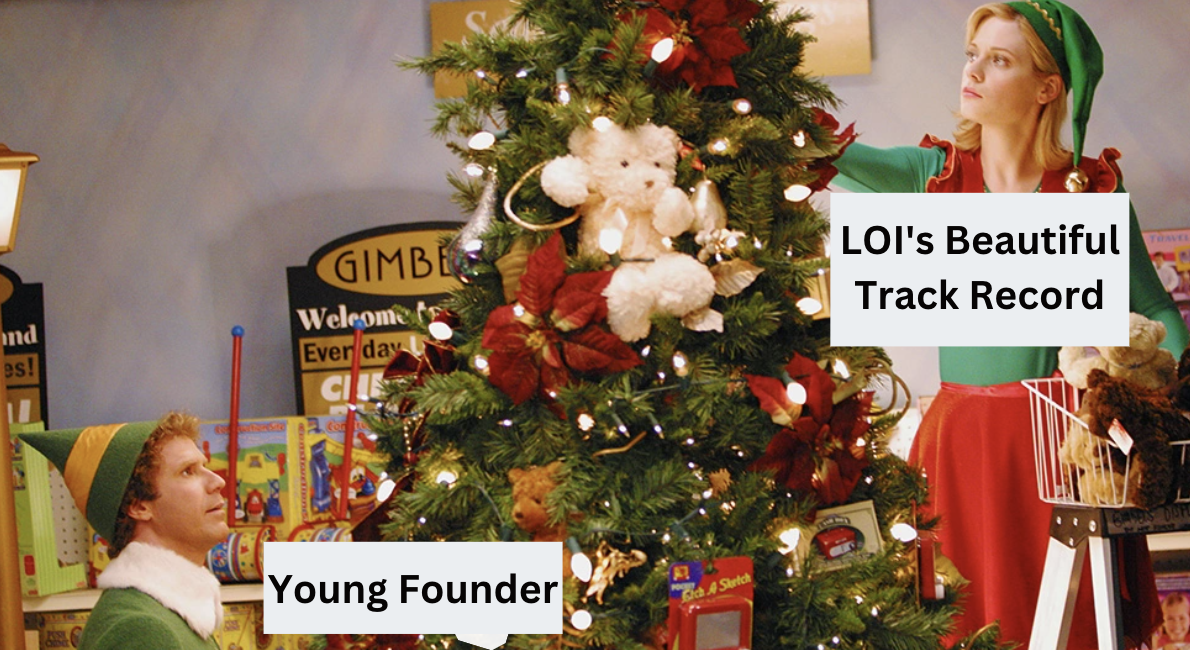 We don't wanna toot our own horn, but LOI's had a hell of a year (in a good way). We've officially passed $1B+ of enterprise value for the LOI ecosystem that started 5 years ago and if you weren't taught math in middle school, that's a number with a lot of 0's to be proud of.
Our alumni have been making waves like:
The TL;DR? We're proud to be Canada's top youth founder accelerator and we have the alumni firepower to prove it.
Wanna know the next challenge we're going after? Making sure our 2023 founder cohorts are even better. At LOI, we wanna attract the brightest young entrepreneurs solving the world's biggest problems. And we need YOUR help to find 'em. You're prize if you choose to accept...
We've spun up a high value Michelin star dinner as a carrot to make you click the link below and apply. Or, feel free to send it to a young founder you know and email us a screenshot so we can add your name for being the nudger.
*how could you not wanna forward an email w/ so many memes?
Apply to LOI's Spring 2023 Boost Founder Cohort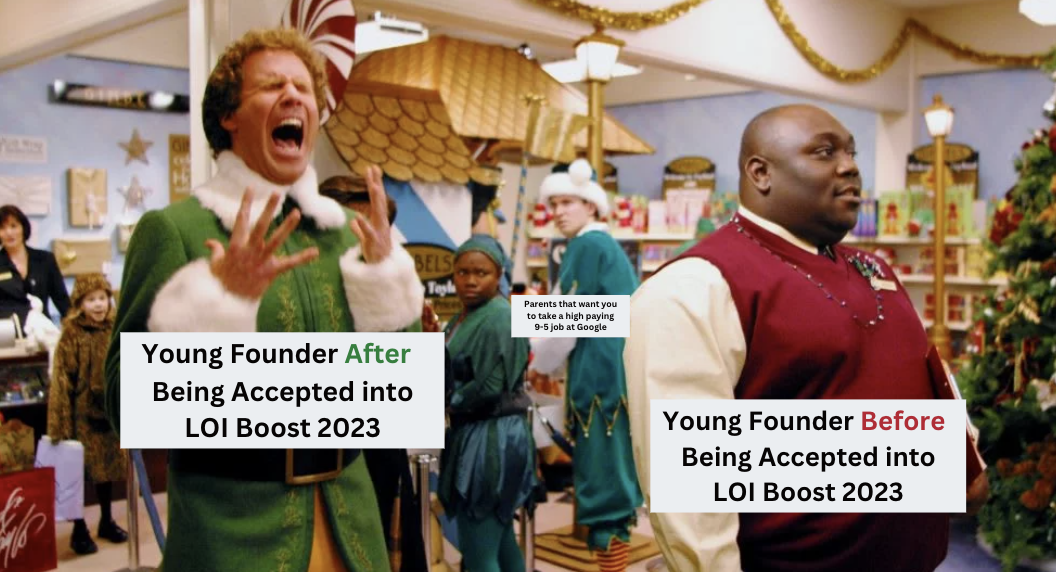 Let's be honest. You're busy, you're tired and you're not looking forward to making surface-level convos with aunt Joanne next Saturday. But we're here and we're gonna give you some goodies @ the end so stay with us.
You see, having startup ideas is great. But knowing how to finesse them into validated, ripe and revenue-ready startup teams that make VCs want to meet you is as hard as mastering the dark arts. And for those that watched Harry Potter, let's just say we the equivalent of a Startup Severus Snape program to help you wield your founder wizardry.
Here's a clip from our Founder, Ryan Holmes, that explains his heart behind launching LOI (but if you've already seen it, keep scrolling).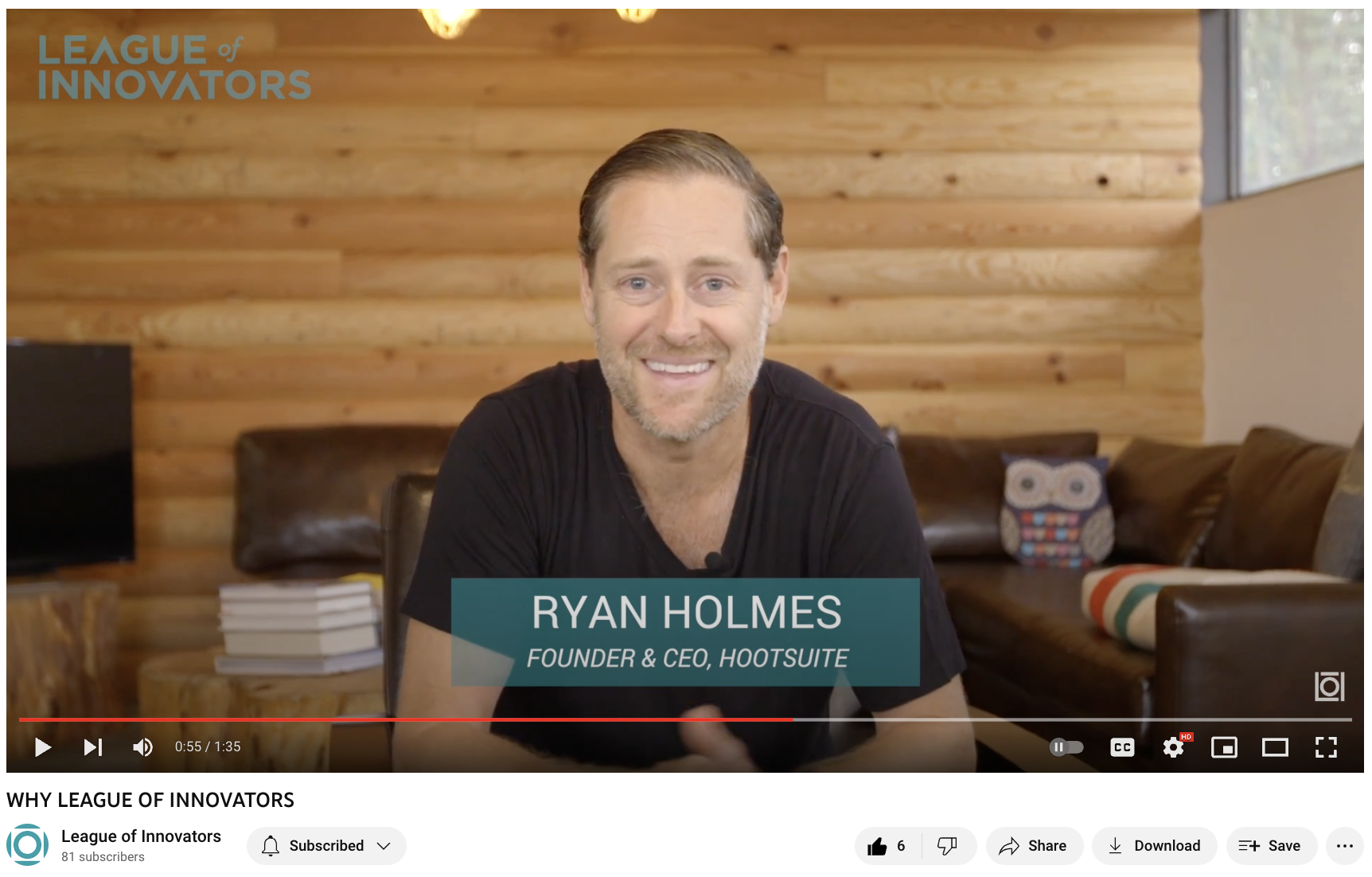 The magic behind LOI is we're here to accelerate founders, NOT startups.
Other accelerators focus on building startups, LOI focuses on building kick-ass founders (that happen to be building startups).
Why's that? As Key and Peele would say "Great question Ba-Lak-ie". The basic algebra is:
When you accelerate one startup = you help 1 startup
When you accelerate one founder = you help 10+ startups that they'll build/advise/mentor/invest in over the course of their life
The latter helps the startup ecosystem exponentially more than the other. But don't tell our competitors. 🤫
Now that you know LOI is:
the top Youth Accelerator in Canada,
has $1B+ in alumni value and
has worked directly with 1,000 startup founders,
Here's the requirements we're looking for in our next 30-person Boost Cohort 👇
Apply to LOI's Spring 2023 Boost Founder Cohort
2023 Boost Checklist
The street cred (and books cred) level needed to be a founder at LOI's most elite startup program
So you wanna sign up for LOI's 2023 Spring Boost Cohort? I get it. So would we if we could turn back the clock. Here's the checklist our programming team reviews to see if you're a proper fit (and ultimately dictate if you can win that fancy dinner next spring).
REQUIREMENTS to be accepted as a Boost Founder:
⏰ ~5 hours of availability per month to attend sessions
💻 Live anywhere in Canada with good wifi/laptop device
☕️ 50% or more of your co-founding team must be 30 years or younger (in the year you are applying)
💸 Has a startup with $100K+ in revenue (some exceptions here; email rob@theleagueofinnovators.com for deets)
🌙 Have a genuine want to scale your startup to the moon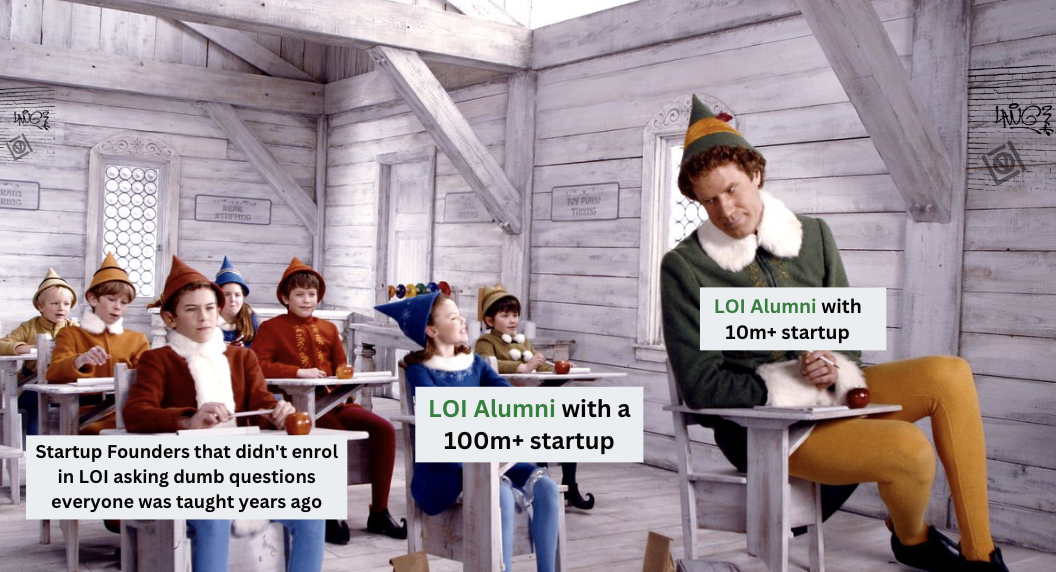 DETAILS of what LOI's Boost Spring 2023 Cohort involves:
📌 12-month virtual residency (with in-person optional events)
📌 Work beside more of Canada's top youth-led ventures (alumni, investors, mentors and advisors)
📌 Add the entire LOI team and network to your corner [$1B]
📌 Join a 1,000-person startup slack group
📌 Free and requires no equity to join
📌 Soak up monthly founder huddles and AMAs with unicorn founders (speakers like Michele Romenow, Chip Wilson, Tara Bosch, Ryan Holmes, Kelcie Miller etc)
📌 Focus on leadership, strategy, and revenue growth
📌 Applications are open until December 19th (but mentioning this newsletter gives you a late admission entry)
📌 Boost officially starts January 23, 2023.
Being a founder at Boost means not feeling alone in your startup journey. If any of this email sounds even the least bit interesting, apply. It takes 11 mins and 42 seconds. *Yes, I did just time myself so it's not fake news.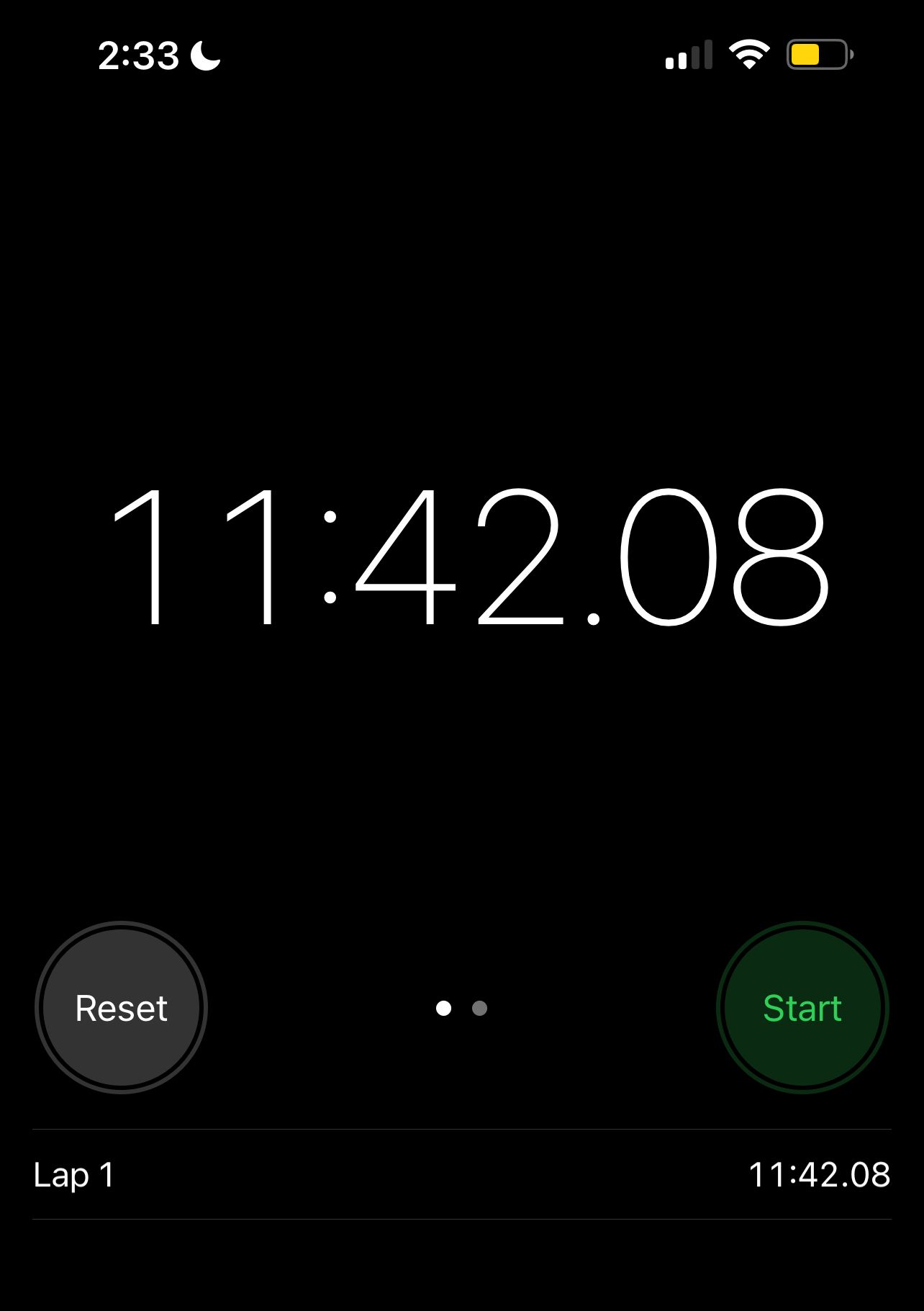 If you seriously care about your startup journey, you should be laughing at the fact that this program is:
+ free and takes no equity
+ asks for 5 hours/month of time
+ is virtual from anywhere in the world
___________________________________
= gives you a network of $1b+ value in exchange
To throw in a treat: anybody who applies from this [mentioning the newsletter in your interview or email to rob@theleagueofinnovators.com] will be entered to win a fancy dinner out by spring 2023.
Apply to LOI's Spring 2023 Boost Founder Cohort
And if you need some other incentives, just think of that investor meeting 5 years from now.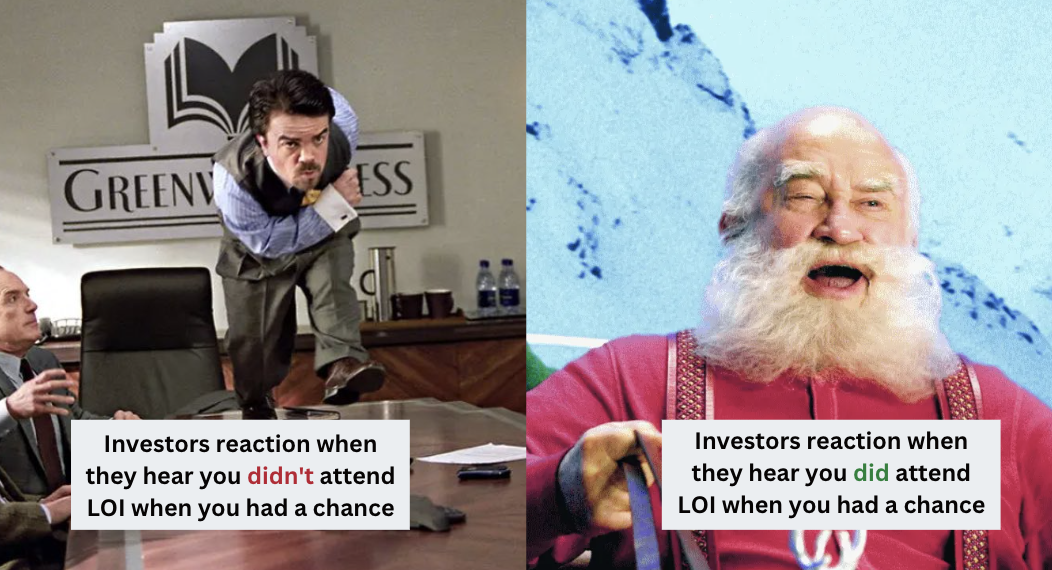 And if you wanna do your research, check out what other alumni have said about their LOI experience or accomplished since their cohort:  
Tara Bosch ($400m startup exit from SmartSweets) said "The training, mentorship and support LOI offered was so relevant to where I was in scaling my business. It made a tremendous impact on my business and its success. "
🚀
Saba Mohebpour
, the
founder of Spocket which is valued at $100m, said: "The early programming and the top-notch individuals that were involved with LOI, enabled me to build out my network and ultimately my business to the place it is now."
Taran and Bunny Ghatora (founders of Blume valued at $20m+) claim "LOI has been an incredible resource of support for us while growing and scaling, and continues to be. We are thankful to have this community and mentors to lean on."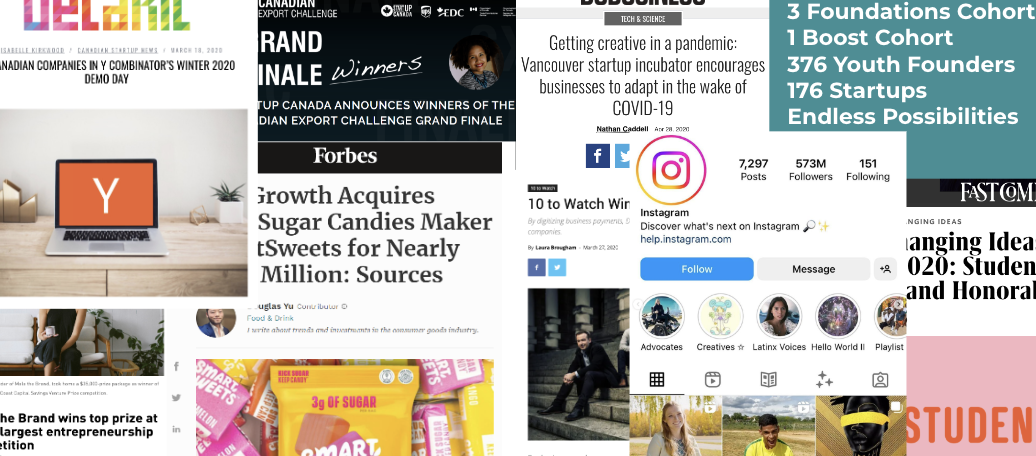 Madison Guy (founder of Grantme valued at $20m+) wrote "League of Innovators was a fundamental support system for me to build up my confidence and realize I can be successful, while knowing that I have a community cheering me on."
LOI Alumni Anthony Nagendraraj and Marissa Huggins are building Spontivly and loved the frameworks they learned at LOI. With their hard work, they caught the eye of Shark Tank's Mark Cuban which led him to invest in their startup.
🚀
One of LOI Alumni's
Aashni Shah
favourite takeaways from her cohort was hearing the programming staff say:
"We want to focus on founders, not companies. Companies may fail, but if we help founders the right way, they'll go on to make multiple more companies".
🚀
Michelle Kwok
who founded and exited
FLIK
said: "LOI was the
x-factor I needed in my career
as a young founder. I didn't even realize what I had signed up for until I officially joined the community, connecting with a group of fellow founders who shared invaluable lessons, resources, and most importantly - constant support. This is
one of the few founder communities
I've been part of that has continued to weave in and through my career and I've always loved staying engaged with, even after the cohort."
and there's literally hundreds of more stories like this but you need to get to your secret Santa gift wrapping...
The main thing is, ff this is a list of founders you're curious to ask
what they read,
who they got mentored by and
how they gave their pitch to land investors,  
LOI's programming team has all of the answers. You just gotta tap that green button to get the goods in next spring's cohort.
Apply to LOI's Spring 2023 Boost Founder Cohort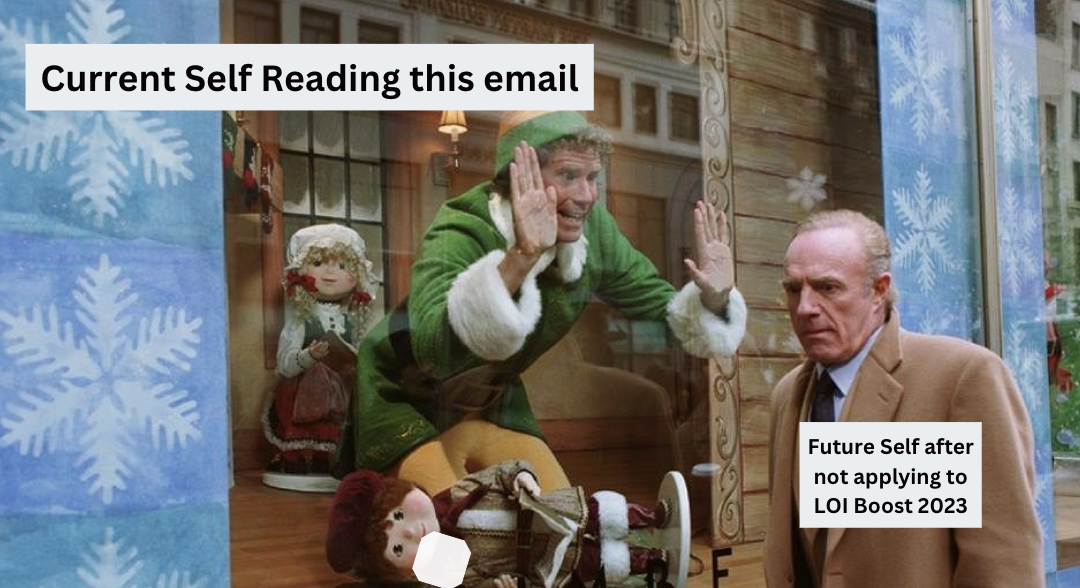 As promised, the startup goodies are:
40% off WeWork All Access Pass [code: LOCAL27KI]
70% off TrendsPro data report [link to buy reports for your startup]
To enter your name to win a free 3-course Michelin Star dinner on LOI, apply to LOI Boost Spring 2023 or get a founder to mention your name in their application/interview
*We made this email spicy so you could forward it to a young entrepreneur you know. This holiday, give your friend the gift of being the next unicorn founder 🎁
Apply to LOI's Spring 2023 Boost Founder Cohort
So there you go. Wishing you, your family and your startup crew the best holiday season you could ask for.
Catch you on the flip side startup pals,
💙 The LOI Fam
P.S. if you wanna make our day, reply to this email and tell us your favourite meme from the list. Or you can thank our meme intern directly by emailing them at ryan.reynolds@loi.com.